WellHaven Bloomington MN Veterinary Clinic
Urgent Care and Emergency Vet Clinic
Life can sometimes throw unexpected curveballs our way at the most inopportune times. For this reason, and for your pets' continued health and well-being, we offer high-quality, cost-effective, after-hours veterinary care for dogs and cats.
This timely veterinary care can supplement your family's regular veterinary visits. After-hours veterinary care in Bloomington, Minnesota, is designed to assist you and your family with any unexpected medical situations that may arise when your regular vet is unavailable and a trip to the emergency vet hospital may not be necessary.
APPOINTMENT
CONTACT US
We're all about your pet.
At the Bloomington WellHaven's urgent care and emergency services veterinary clinic,
we treat your pets as if they were our own. Most of our doctors, veterinary nurse technicians, and support
staff have pets. They understand how stressful it can be when our pets aren't feeling their best.
Our process begins over the phone or in person with our friendly front-desk staff.
Our urgent care and emergency services continue when we check your pet into our facility.
Your Pets, Our Focus
We've worked hard to create a stress-free environment for our patients (and their parents). With a clean, comfortable lobby area, you're able to be with your pet throughout most visits.
Pet stress levels can elevate when they enter the exam room, so we've taken many steps to design a "Fear Free" environment. This goes beyond the room itself: Many of our caregivers are Fear-Free certified and trained to put your pet at ease during every urgent care and emergency services examination.
All-In-One Veterinary Care
The Bloomington MN WellHaven urgent care and emergency services clinic has been fully updated with state-of-the-art equipment, including radiology equipment (X-rays) and an in-house lab to analyze samples. Along with an on-site pharmacy, we wanted to make urgent veterinary and emergency care as accessible as possible in one location.
Our hospital is also American Animal Hospital Association accredited, meaning we have met nearly 900 standards of veterinary care. By submitting to comprehensive evaluations by the AAHA, the Bloomington WellHaven takes great pride in meeting (and exceeding) vet hospital best practices and operations.
Happy Vet, Happy Pet
Nothing makes us happier than helping pet owners take care of their pets. And WellHaven feels the best way to do that is to take care of the caregivers. We make sure our doctors have a healthy work/life balance, resources, and the support they need to focus solely on their patients.
This way they are actually able to see more patients and spend more time with them. We also empower our vet nurse technicians and other urgent care and emergency services support staff to continue their education to ensure we have experienced, knowledgeable personnel in our clinics.
By giving our staff the resources they need to do their job, WellHaven also works toward hiring the best and the brightest and retaining those people. When you bring your animal to Bloomington WellHaven for urgent care or emergency services, you'll be seen by some of the best veterinary health care professionals around.
WellHaven Bloomington Urgent Care/Emergency Services Vet Clinic
Please call our urgent medical care veterinary clinic in Bloomington, Minnesota, if you have any questions. We're happy to discuss issues you may be having with your small pet, large pet, and every pet size in between.
If you ever think your pet may be having a medical condition that requires a visit to our walk-in clinic or veterinary emergency room, do not wait. Time is of the essence when dealing with potential life-threatening emergencies.
Even minor injuries and illnesses can require urgent care if left untreated. We aim to provide continuing care and to save the lives of our customers' beloved pets.
WellHaven aims to be your primary care, community emergency management, and urgent care center for your pet. Please don't hesitate to get in touch with any questions.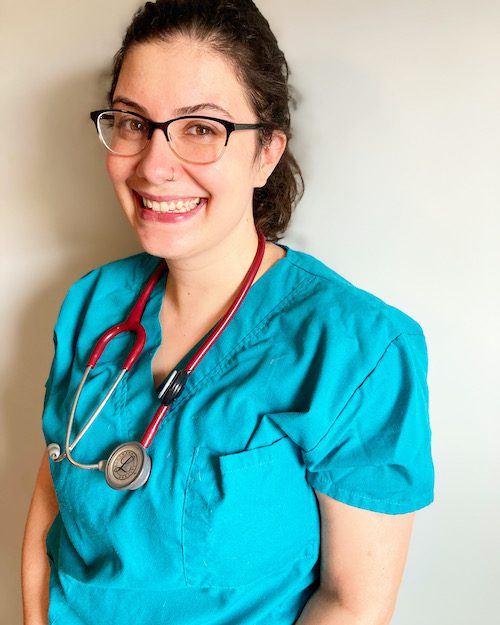 Dr. Colette Friedenson, VMD, MPH received her veterinary doctorate from the University of Pennsylvania. After finishing vet school, she completed a fellowship in Emergency Medicine and Surgery and has been working in emergency medicine ever since. Dr. Friedenson's professional interests include critical care such as polytraumas and toxicities, soft tissue surgery, and wound management. She is also Fear Free certified and is passionate about reducing stress for pets and their owners during veterinary emergencies. 
Prior to attending vet school, Dr. Friedenson received her Masters in Public Health in Epidemiology at Columbia University with a focus on zoonotic diseases (infectious agents spread from animals to humans). Her passion to protect the health of the human-animal bond led her to pursue veterinary school. Dr. Friedenson has published several articles in peer-reviewed research journals.
Dr. Friedenson is delighted to have returned to the Twin Cities, her hometown, after many years away. She lives in South Minneapolis with her husband, two feisty toddlers, and her incredibly lazy dog.
Dr. Erika Wehmhoff earned a Doctor of Veterinary Medicine from the University of Minnesota College of Veterinary Medicine. While in school, she was very involved with student organizations and loved sharing her experiences through the student ambassador program. Dr. Wehmhoff developed a love of urgent care as a fourth-year student after the availability of these services helped her with her own pets many times. It inspired her to complete rotations at several urgent cares before completing her degree and starting her career as a doctor in this unique field.
A lifelong resident of Minnesota, Dr. Wehmhoff enjoys the variety of experiences this beautiful state has to offer. From car camping to backpacking, biking to hiking, restaurants to theaters, she likes to utilize her time outside of work to the fullest. Her companions in these adventures are her husband, her two dogs (a rescue mix and a German Shepherd), and a dynamic duo of cats. When she's not out and about, Dr. Wehmhoff loves to cook, bake and crochet anything in a square or rectangle. She's a lover of music, yoga, and dancing in the kitchen, and is genuinely enthusiastic about most things in life!
Delaney Edison grew up in the Pacific Northwest and since a young age, she has always had a love and passion for animals and their well-being. From her parent's home in Vancouver, WA which housed various animals to her current home in Red Wing, MN which she shares with her two spunky toddlers, her husband, and pack of dogs and cats.
Delaney started in the veterinary medical field in 2013 as a Certified Veterinary Technician and has since held many positions, from Director of Operations from West Columbia Gorge Humane Society to her current position as the Practice Manager for WellHaven Pet Health Bloomington.
When she is not fighting the good fight of animal welfare, Delaney enjoys baking, crime dramas, scoping out the newest pizza places, spending quality time with friends and family, and of course anything with four legs and fur.
Click below to request an appointment online in minutes!
Hospital Hours
Sunday: 9 AM – 6 PM
Monday: 9 AM – 6 PM
Tuesday: 9 AM – 7 PM
Wednesday: 9 AM – 6 PM
Thursday: 10 AM - 10 PM
Friday: 9 AM - 6 PM
Saturday: CLOSED
Please use the form below for any questions or concerns you may have. A member of our team will get back to you as quickly as possible. If you need immediate assistance, our contact information is below! WellHaven Pet Health Bloomington
2240 West 80 1/2 Street, Suite A
Bloomington, MN 55431
612-930-4478