Life can sometimes throw unexpected curveballs our way at the most inopportune times. For this reason, and for your pets' continued health and well-being, we offer high-quality, cost-effective, after-hours veterinary care for dogs and cats.
This timely veterinary care can supplement your family's regular veterinary visits. After-hours veterinary care in Bloomington, Minnesota, is designed to assist you and your family with any unexpected medical situations that may arise when your regular vet is unavailable and a trip to the emergency vet hospital may not be necessary.
Hours Vary due to COVID – Please call ahead
Monday – Friday 9 AM – 5 PM (612) 930-4478
We're there when you need us most. If your pet is showing obvious signs of distress, please don't hesitate to bring them in during our open hours. If possible, call ahead so that we can prepare and give you suggestions on keeping your pet safe during transit. Our clinic is fully equipped with x-ray capabilities, a lab, and a stocked pharmacy so we can diagnose any issues and, if we're able, attend to your pet's needs.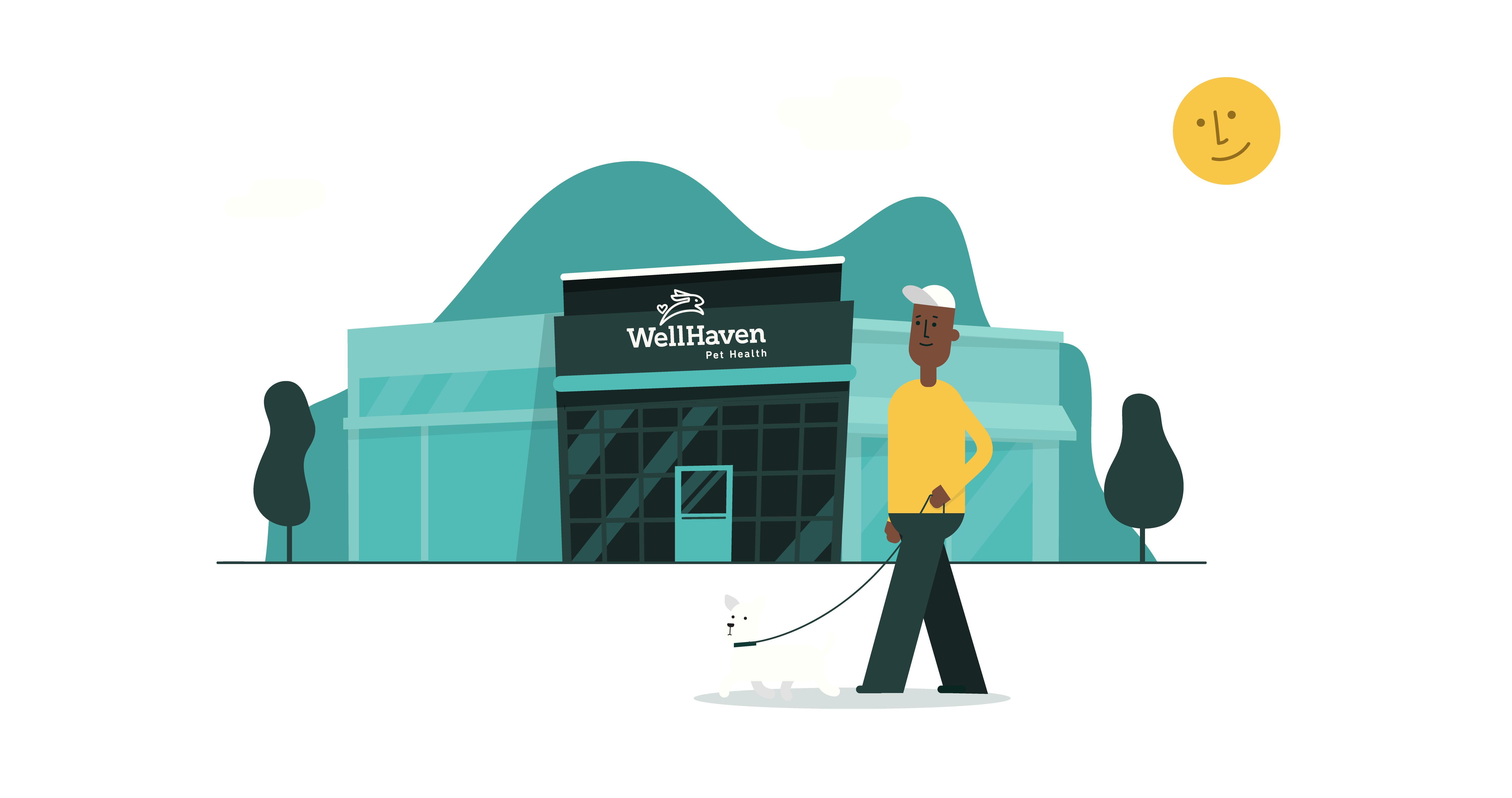 Experiencing an emergency? Call us to have your pet seen right away.
Outpatient services include an extensive in-house lab, high-quality digital radiography, emergency ultrasonography, soft tissue surgery, wound care, pain management, and a well-stocked in-house pharmacy.
Hours vary due to COVID, please call ahead: Monday – Friday 9AM – 5PM (612) 930-4478
If you ever feel that your pet needs emergency treatment do not hesitate to call or come in immediately. If possible it is best to call before coming in so that a team member can advise you on your particular emergency.
During regular business hours, we're able to assist with urgent matters to your pet's health. Equipped with the latest technology, an in-house laboratory, and a world-class surgical suite, we're able to quickly diagnose and treat a wide variety of injuries and illnesses. Trust the expert Bloomington vets at WellHaven Pet Health to keep your pet healthy and happy.
When to seek out Urgent Care Services at Wellhaven Bloomington:
Allergic reactions

Eyes: swelling, discharge, redness

Ears: discharge, debris, odor, twitching, scratching, shaking

Coughing or sneezing

Vomiting and/or diarrhea

Straining to have a bowel movement

Change in urine color, frequency, or amount

Straining to urinate, dribbling urine

Change in amount of food or water intake

Change in behavior (depression, anxiety, sleepiness)

Wounds or bite marks

Minor trauma 

Facial swelling, licking, or scratching

Skin itchiness, licking, or scratching

Limping or weakness

First time seizures

Minor open wounds

Changes in chronic conditions
When to seek Emergency Services at an Emergency/Referral facility elsewhere:
Serious trauma (hit by car, falls, gunshot)

Head or eye injuries

Irregular breathing, shortness of breath, prolonged or heavy panting

Heart disease or failure

Severe or sudden onset of pain

Blood loss

Broken bones

Exposure to toxins including rat poison and antifreeze

Hyper- or hypothermia (heat stroke or frostbite)

High fever

Serious burns

Cluster seizures or severe neurologic disease
If you're not sure if your pet's condition qualifies to be seen at the Urgent Care, please contact our Triage Team directly at: (612) 930-4478
Dr. Colette Friedenson, VMD, MPH received her veterinary doctorate from the University of Pennsylvania. After finishing vet school, she completed a fellowship in Emergency Medicine and Surgery and has been working in emergency medicine ever since. Dr. Friedenson's professional interests include critical care such as polytraumas and toxicities, soft tissue surgery, and wound management. She is also Fear Free certified and is passionate about reducing stress for pets and their owners during veterinary emergencies.
Wellhaven Bloomington Urgent Care is fully outfitted to diagnose and treat most emergency situations. Our diagnostic tools include state-of-the-art digital radiology (x-ray), comprehensive in-house lab, and emergency ultrasonography to quickly identify any internal issues your pet may be experiencing.
Our emergency doctor is experienced in treating many internal issues including surgical emergencies such as gastrointestinal foreign bodies and uterine infections (pyometra). For external injuries, our emergency doctor is experienced in wound care and other soft tissue surgery. We will specify pain management guidelines for your pet during recovery and our on-site pharmacy is well-stocked with medicine for both pain and to treat any potential infections.
Urgent Care COVID Protocols
Due to the ongoing COVID-19 pandemic, Wellhaven Urgent Care is operating exclusively on a curbside basis with very few *exceptions*. When you come to Urgent Care, please call the number listed to notify the staff of your arrival. A member of the Triage Team will check your pet into the hospital, take a brief history, and notify you of any wait time.
To protect our clients and staff members, patients must wait in the car in our parking lot until a team member brings them into the hospital. Patients are seen in order of arrival, with most urgent cases triaged first. A Triage Nurse will call you to notify you when to escort your pet to the front door. We kindly ask that all clients wear a properly fitting mask when interacting with any staff member. The Triage Nurse will then bring your pet into the hospital for the doctor's exam and initial treatments. We kindly as that you return to your car and stay in the parking lot until a team member notifies you otherwise. The doctor will complete their exam and call you with an initial diagnostic and treatment plan. 
Click below to request an appointment online in minutes!
Hospital Hours
Sunday: 9 AM – 6 PM
Monday: 9 AM – 6 PM
Tuesday: 9 AM – 7 PM
Wednesday: 9 AM – 6 PM
Thursday: 10 AM - 10 PM
Friday: 9 AM - 6 PM
Saturday: CLOSED WellHaven Pet Health Bloomington
2240 West 80 1/2 Street, Suite A
Bloomington, MN 55431
612-930-4478